If you are just getting started out in internet marketing (also known as online marketing), one of the tools that you will need is an autoresponder account with the various services online.
What is an Autoresponder?
An autoresponder is a service that sends out automated emails to your subscriber list in the form of an e-newsletter. The term itself is synonymous with other terms such as:
Mailbots

Email responders

Automated Emails

and other names similar to these
Of the programs out there, many of these automated email systems work pretty much the same: when you get a subscriber on your blog to "opt-in" they can get a series of automated emails that will help them with whatever problem you are teaching them to solve.
Automated email services are a great tool to use when creating an online product, E-course, training program, or other internet marketing strategy such as affiliate marketing for example.
The Money is in the List
You may have heard that the money is in the list – and this is absolutely true. On average, you should expect your email list to bring you about $1 per lead per month. So if you have a list of 1000 subscribers, you should try to keep sending them valuable information each day or a few times per week that will help them solve some problem. If you do this properly, you will want to include some offer where they will pay for a service, item, or solution.
In this example, you should strive for about $1000 per month, since there are 1000 subscribers in this list.
Top Autoresponder Services
The most common automated email services out there currently are:
MailChimp

Get Response

Constant Contact
If you are in the working from home, or online business niche, including (but not limited to) affiliate marketing, product marketing, e-course marketing, MLM, or internet marketing, the most popular option is Aweber.
Aweber offers a $1 trial for the first month, and then it is about $15 per month when you get started. As you build your list and you start earning more money, you eventually will pay a little bit more each month for Aweber to maintain your lead list.
It is a fair trade and humble investment however, especially when you start making sales each month.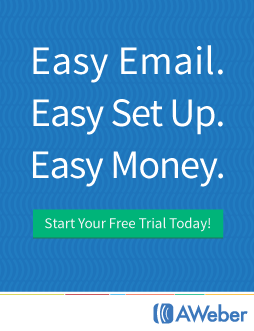 How to Build an Email List
Here is a list of the basic methods of building an email list with your autoresponder program. We will discuss these traffic methods in other blog posts in the near future:
Twitter Marketing

Facebook Marketing (directing to blog posts and Facebook Ads)

Add your Sign up or Opt-in form to your blog

Promote a Free Ebook or E-Course to get subscribers

Solo Ads

Paid traffic (CPC on Google or Bing Ads for example)

Paid Traffic (CPV – Cost per View on services such as DirectCPV)
Once your list starts being built, you will want to set up your Aweber "follow-up" series, where once the subscriber opts-in, they will get a welcome email from you (or your company), and then eventually a series of emails with the steps of their program with the occasional offer.
Remember to provide lots of value, as the most valuable lists are those where you build a great relationship to the audience and solve their problem. I cannot stress the enough.
How Autoresponders Make You Money
Case Study:
For this, let's use a real example. On this site, RealJobsWriting.com/blog you'll notice that I have an opt-in form right on this blog page to the right.
I also have a landing page that gets people to opt-in right on the home page for Real Jobs Writing. My goal is to get traffic to either of these pages. If the visitor is interested in learning how to make an income as a freelance writer, he or she can opt-in to my newsletter.
When the visitor opts in to my autoresponder sequence, they are immediately sent an Ebook on the beginner steps on making money as a freelance writer, as well as a checklist to follow on what exact steps to take on how to start earning money as an online writer.
The next few weeks, I will send an email to the entire list, a few days apart with help, tips, and steps to take to keep ramping up their business. During these emails, I am sending offers that are HELPFUL and have tons of value. In this case I am recommending a site known as Writing Jobs Online where you can get access to over 1000 writing jobs online.
Provide High Value Emails in your Automated Email Service
Again, with all of the crap products out there, as well as shady people, you will want to do your best to be transparent, as well as trustworthy as you build a relationship with your list.
I've learned from some of the best email marketing experts out there and they all agree that you need to provide value to your subscribers.
Really focus on the people on the other end as real people, not just statistics. If you can solve a problem and truly care about their problems, your subscribers will stay tuned to all of your messages and become a client/customer for life!
Best of luck with your email marketing campaigns!
—
Resources:
Aweber – get a $1 first month trail with my link: Try Aweber for $1
Video Training on How Email Responders make you money online: 21 Step Training Program
Nate Rio is an expert at Email Marketing campaigns and list building. To learn how to leverage your email list to create sales of $1250, $3300, and $5500 WITHOUT selling people, visit Nate Rio's Blog.